---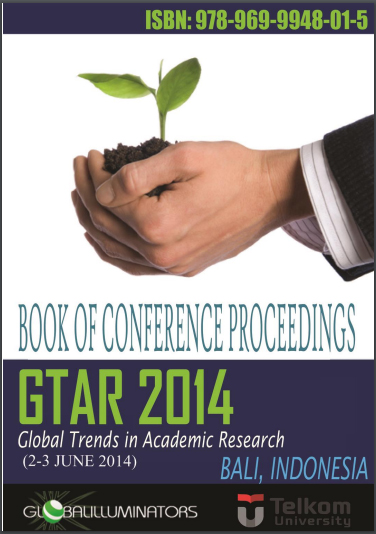 GTAR Proceedings
Copyright © Global Illuminators. All rights reserved
GTAR Proceeding
Volume 1, Pages 1-603
2014 GTAR Conference on "GLOBAL TRENDS IN ACADEMIC RESEARCH" (GTAR 2014)
June 02-03, 2014 Bali, Indonesia
Edited by Dr. Saddam Hussain
Volume 1
pp. 1-603 (2014)
2014 GTAR Conference on "GLOBAL TRENDS
IN ACADEMIC RESEARCH"
(GTAR 2014)
Volume 2
pp. 1-728 (2015)
2015 GTAR Conference on "GLOBAL TRENDS
IN ACADEMIC RESEARCH"
(GTAR 2015)

Track: Business Management & Economic Studies
Modelling and Simulation of A Humanoid Robot Arm
Pages 1-3
Jamaludin Jalani, HairuddinHamzah, SumaiyaMashori
---
Trend in Human Capital Research: Multilevel Studies
Pages 4-11
Mery Citra Sondari, Jann H. Tjakraatmadja, Yuni Ros Bangun
---
Corporate Social Responsibility towards Corporate Performance: Whether A Barrier or an Endorser?
Pages 12-26
Astrie Krisnawati, Gatot Yudoko, Yuni Ros Bangun
---
Using Talent Strategy as a Hedging Strategy to manage Banking talent Risks in Malaysia
Pages 27-35
Dewi Tajuddin, Rosalan Ali, Badrul Hisham Kamaruddin

---
Loan Loss Provisions and Macroeconomic Factors: The Case of Malaysian Commercial Banks
Pages 36-48
Hasni Abdullah, Ismail Ahmad, Imbarine Bujang
---
Preliminary Approach in Identify CFSF for Effective ICT Governance in Malaysian public sector (mps)
Pages 49-55
Rosida Ab Razak, Mohamad Shanudin Zakaria
---
Angel Investment as a Source of Startup Capital: A Case Study in Indonesia (Comparative Study in Jakarta and Bandung)
Pages 56-67
Chintia Febrianti S
---
Giving Loan to Member's Profit of Koperasi Tempe Tahu Indonesia in Bandung
Pages 68-74
Ika Mei Ratnasari
---
An Integrated Talent Management System: Challenges for Competitive Advantage
Pages 75-86
Ratri Wahyuningtyas
---
Financing of Small and Medium Enterprises: People's Credit Scheme (kur) Challenges as Prospects of Smes in Indonesia
Pages 87-92
Yuhana Astuti
---
Foreign Co-authorship Phenomenon: A Preliminary Study of Research Productivity of Higher Education Institution in Indonesia
Pages 93-103
Mery Citra Sondari, Jann Hidajat Tjakraatmadja, Yuni Ros Bangun
---
The Effect of Leadership Style Towards Work Family Conflict at PT. XYZ, Bandung
Pages 104-115
Arif Partono Prasetio, Nurvita Trianasari
---
Women Entrepreneurial Intentions in Micro and Small Enterprises (mses) in Indonesia: The Influence of Environmental
Factors on Perceived Behavioral Control
Pages 116-126
Grisna Anggadwita, Wawan Dhewanto
---
The Influencing Factors of the Implementation Street Vendor Relocating Program in Bandung, Indonesia. Case Study of
Street Vendor alun-alun, Jalan kepatihan and Jalan Dalem kaum
Pages 127-140
Anggraeni Permatasari, Bambang Rudito
---
Using Qualitative Research in Accounting and Management Studies: Not a New Agenda
Pages 141-148
Hasan Basri
---
A Conceptual Framework of Entrepreneurship Policy
Pages 149-160
Isti Raafaldini Mirzanti, Togar M. Simatupang, Dwi Larso3
---
Relationship Between E-Commerce Service Quality, Satisfaction, Trust, and Customer Loyalty in the Hotel Industry in
the east Coast of Peninsular Malaysia
Pages 161-172
A.H. Mutia Sobihah, Mahadzirah Mohamad, Nor Azman Mat Ali @ Salim, Wan Zulqurnain Wan Ismail
---
Soft Skills for Leadership that Affect the Project Control By Sub-District Health Promoting Hospital Directors in Roi-et Province
Pages 173-183
Jarunyoo Tonganek, Prachak Bouphan
---
Continuous Quality Improvement Enhancement of Registered Nurses in Community Hospital Khon Kaen Province
Pages 184-195
Chaloermchai Camoou, Prachak Bouphan
---
The Study on Employees' Satisfaction to Core and Managerial Competency Improvement from Training and Development
Program: Case Study of Numchai Insurance Company Limited
Pages 196-203
Ariya Songrattananon, Kronkan Na Nakornphanom
---
Developing an Index for Medical Tourism
Pages 204-210
Yuhanis Abdul Aziz, Zaiton Samdin, Khairil Wahidin Awang, Zulhamri Abdullah
---
Track: Social Sciences and Humanities
The Professional Development Programs And Integration Of Learning Management System
Pages 211-225
Sheiladevi Sukumaran, Abdul Rahman Idris
---
An Investigation of Students Employability Skills of A New Established University During Industrial Placement
Pages 226-237
Jamaludin Jalani, NorHaslinaHashim, Md. Zin Ibrahim
---
Trends of Study on Ta'wilat Ahl al-Sunnah by Abu Mansur al-Maturidi: 1970-2004
Pages 238-243
Aisyah Bt Dollah@Abdullah,Prof. Dato' Dr. Mohd Yakub @ Zulkifli bin Haji Mohd Yusoff, Ahmed Kasar, Nailah bt Abas, Husniyah Salaeh
---
Gamifying Academic Research of near Extinct Moribund Words to Preserve Culture and Heritage
Pages 244-249
Normahdiah Sheik Said, and Nadia Suboh
---
Positive and Negative Effects of Postmodernism on the Mass m,dia: A Critical Review of Trends from an Islamic Perspective
Pages 250-257
Yusuf Abdul Azeez, Azmi Shah Bin Suratman Hussin Bin Salamon Ramli Bin Awang and Ziad Bin Abdul Awal
---
Group Counseling for At-Risk Adolescents
Pages 258-267
Mohammad Nasir Bistamam, Aslina Ahmad, Amelia Mohd Noor, Ahmad Jazimin Jusoh, Mohd Bazlan Mustafa, Norani Ismail, Samsiah Mohd Jais7, Faizura Rohaizad and Mohd Noor Idris
---
The Study of Comic Influences on New Generation's Drawing Styles
Pages 268-279
Li-Chiou Chen
---
Motives for Sporting Activities Participation among Wheelchair Athletes
Pages 280-286
Nagoor Meera Abdullah, Norlizah Abdul Hamid, Sarimah Ismail & Vincent Parnabas
---
Youth Volunteerism In Chow kit, Malaysia: Factors of Involvement
Pages 287-293
Sarimah Ismail, Noor Azmira Samat, Vincent Parnabas, Nagoor Meera Abdullah and Nolizah Abdul Hamid
---
Measurement for Analyzing Instant Messenger Application Adoption Using Unified Theory of Acceptance and Use of
Technology 2 (utaut2)
Pages 294-303
Gusti Ayu Made Mas Marhaeni and Indrawati
---
Batek Hep" Language: The Female"s Pride and Learning Exploration
Pages 304-309
Tengku Intan Suzila T.S, Teo Kok Seong and Mohd Yusri M.N
---
An Investigation of Preschool Children's Toy Preferences According to Different Variants
Pages 310-316
F. Ülkü YILDIZ, Gökhan KAYILI
---
A Study into the Effects of Preschool Education on the Emotional Skills of First Graders
Pages 317-323
Ülkü Kale Karaaslan, Aysel Çağdaş
---
Modeling and Forecasting the Volumes of Malaysia's Import
Pages 324-334
Mohamed A.H Milad, Ross Irnawaty Ibrahim and Samiappan Marappan
---
Implementation Model of Mlearning Based Discovery Learning on Teacher Education
Pages 335-353
Asra, Muhammad Ridhuan Tony Lim Abdullah, Saedah Siraj and Siti Aisyah Ha
---
Contribution of Abd al-Rahman Hasan Habannakah in the Field of Tafsir: Background Studies on the Principles of Tadabbur
in the Qawa"id al-Tadabbur al-Amthal li Kitab Allah
Pages 354-367
Nurul Zakirah Mat Sin
---
Giving Food Clover Education with Art Activities to 5 year-old Children
Pages 368-380
Gulriz Akaroglu, Aysegul Sarikaya and Didem Onay Derin
---
Social Integration of Vietnamese People Residing Abroad: Case Studies Vietnamese in Sydney Australia and Philadelphia.
pa. u.s.
Pages 381-402
Le Thi Mai
---
Study Assistance by Social Methodology Application for Mobile Device
Pages 403-410
Phudinan Singkhamfu, Chaithawat Suraphruk and Patiphat Inkong
---
Track: Physical Life and Applied Sciences
The impact of Contextual method in teaching and learning Engineering Statistics in the Universiti tun hussein onn malaysia
(uthm)
Pages 411-420
Zulkarnain Md Amin, Nafisah Kamariah Md Kamaruddin, Wan Mohd Rashid bin Wan Ahmad, Maizam Alias
Abstract

Teaching engineering statistics for engineering students in universities is not an easy task. The best methodology is important so that students will learn engineering statistics effectively. However most researchers measured the effectiveness of the teaching and learning engineering statistic method based on the outcomes which are the test results. Thus this research was done to find out the opinion of the students on whether the use of contextual method in teaching and learning engineering statistics is effective. The population consisted of two groups in the Universiti Tun Hussein Onn Malaysia: electrical engineering degree students using contextual method and mechanical engineering degree students using non-contextual method. A sample of 15 students from each group was selected: 5 weak students, 5 moderate students and 5 good students. Data were collected using an interview with semi-structured questions. The data were analyzed using NVivo. The findings showed that most students in the contextual method group understand statistics concept better than the other group. Majority of the students using the non-contextual method were lost or confuse of the statistics concept. In conclusion, the contextual method appeared to be more favourable by the engineering statistics students in their learning process.
---
Lactic Acid Production From Sweet Potatoby Lactobacillus Casei Tistr 453
Pages 421-430
Amnuai Adthalungrong, Chaowaree Adthalungrong, Angthika Sirithanachareon, Achala Prachansit
---
The Fourth Version of Richardson's Extrapolation Spreadsheet Calculator Using Vba Programming for Numerical
Differentiations
Pages 431-438
Kim Gaik Taya, Tau Han Cheongb, Sie Long Kekc and Rosmila Abdul-Kahard
---
Aquatic Plants As Phytoindicator For Heavy Metals Contaminant In Polluted
Freshwater Bodies
Pages 439-447
Rashidi Othman, Nurul Azlen Bt Hanifah amd Ruhul and 'Izzati Shaharuddin
---
Ethnobotanical Study of Traditional knowledge on Plant Used in Traditional Bath (mandi serom) among Malay Midwives in
Perak and Negeri sembilan
Pages 448-454
Rashidi Othman, Nur Illani Abdul Razak and Nooriszai Ishak
---
Biomonitoring Agent for Heavy Metals Run Off from Acid Sulfate Soil of Aquaculture Industries in Selangor, Malaysia
Pages 455-461
Renga Rao Krishnamoorthy, Sharifah Nadhrah Syed Tajul Arif
---
Radioprotective Potential of Punicagranatum Extract and Synthetic Ellagic Acid: A Biochemical and Hematological Study in Mice.
Pages 462-468
Satheesh Kumar Bhandary B, Sharmila K.P, Suchetha Kumari.N, Vadisha S. Bhat & Ganesh Sanjeev
---
Spatial Interpolation Of Monthly Precipitation In Selangor, Malaysia – Comparison And Evaluation Of Methods
Pages 469-480
Nurul Nadiah Mohd Firdaus, Suhaimi Abdul Talib
---
Malaysian Adolescents" Moral Awareness and their Cultural Conformity
Pages 481-495
Siti RafiahAbd Hamid, Khamsiah Ismail, Nik SuryaniNikAbd Rahman and Haniza Rais
---
District Health System Development Performance by District Health Committee in Nhongkhai Province
Pages 496-506
Panom Pengwichaiand, Prachak Bouphan
---
Factors Affecting the Research for Solving Health Problem of Health Personnel at Health Promoting Hospital in Nakhon
Phanom Province
Pages 507-516
Rungrawee Srichan and Prachak Bouphan
---
Consumers Protection Performance of Health Personnel in Sub-district Health Promoting Hospitals, Khon Kaen Province
Pages 517-528
SumaleeLarangsitand and Prachak Bouphan
---
Prevention and Control Performance of Diabetes Mellitus Among Health Personnel at Primary Care Units Khon Kaen Province. Master of Public Health
Pages 529-539
Kanokphit Kanwa and Prachak Bouphan
---
Differences in Fitness Level Between Urban and Sub-Urban High School Student
Pages 540-570
Borhan Bin Yusof, Mohamad Sadek Mustaffa Khairulzaman Hamin & Rosnizar Binti Yahaya
---
Business Success through Relationship Marketing Identification of Red Chili Producers Based on the Six Markets Model
Pages 571-578
Agriani H. Sadeli and Hesty N. Utami
---
Modern Market Retail Local Fresh Produce Supplier Value Creation through Marketing Contribution
Pages 579-586
Hesty N. Utami, Agriani H. Sadeli
---
Track: Engineering and Technology Studies
Modelling and Simulation of A Humanoid Robot Arm
Pages 587-597
Jamaludin Jalani, Hairuddin Hamzah, Sumaiya Mashori
Abstract

Imitating similar function of a human arm can be very challenging task for a humanoid robot arm. A simple task such as pick and/or place requires the understanding of mathematical modelling, forward kinematics and control system. Hence, this paper presents a modelling and simulation of humanoid robot arm which is based on a human arm anatomy. The model of the humanoid robot arm is developed by using Simmechanics. The robot consists of two arm manipulators, a palm and five fingers. All fingers, i.e. index, middle, ring and small finger consist of three links and three joints except the thumb finger. The thumb has four joints and four links. A previous study has shown that a human hand can safely grasp any cylindrical and cube objects of the same size within approximately one second. This is a very important target to be achieved by a robot hand as the controller should be able to perform as close as possible to human hand speed. In order to control the grasping, a conventional PID control is proposed. The results show that the PID controller is accurately performed less than 5% error better than human grasping. Note that human grasping is limited to 10% error. In addition, the robot hand is able to realize grasping within one second. The results also show that the model of humanoid robot hand is successfully developed by using Simmechanics. A development of forward kinematics is provided based on Denavit-Hartenburg technique to show x, y and z position.
---
Updating the Development of Real-Time Monitoring System for Perceptible Water Vapor
Pages 598-606
Wayan Suparta, Kemal MaulanaAlhasa, Mandeep Singh3 & Jit Singh
---
Extraction of Beta Carotene from Palm Mesocarp via Green Sub-Critical Carbon Dioxide
Pages 607-615
Mohd Azizi Che Yunus, Muhammad Syafiq Hazwan Ruslan, Jefry Bin Jamal, Wan Aminullah Wan Abdul Aziz and Zuhaili Binti Idham
---
The Impact of the Number of Nodes, Speed of Nodes, Speed of Network and the Network Space to the Number of Nodes keeps Alive
Pages 616-622
SuhazlanSuhaimi and KamaruddinMamat