---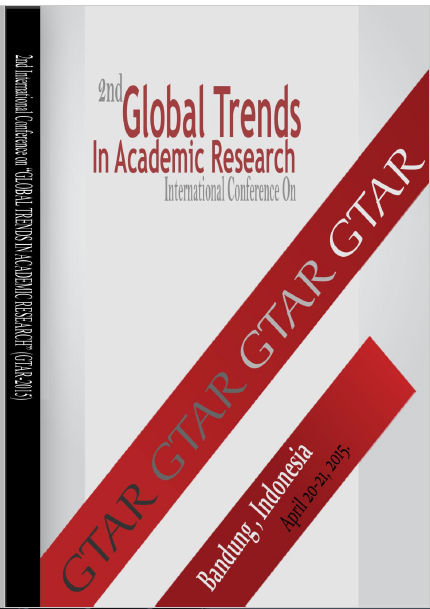 GTAR Proceedings
Copyright © Global Illuminators. All rights reserved
GTAR Proceeding
Volume 2, Pages 1-728
2015 GTAR Conference on "GLOBAL TRENDS IN ACADEMIC RESEARCH" (GTAR 2015)
April 20-21, 2015 Bandung, Indonesia
Edited by Dr. Saddam Hussain
Volume 1
pp. 1-603 (2014)
2014 GTAR Conference on "GLOBAL TRENDS IN ACADEMIC RESEARCH" (GTAR 2014)
Volume 2
pp. 1-728 (2015)
2015 GTAR Conference on "GLOBAL TRENDS IN ACADEMIC RESEARCH" (GTAR 2015)

Track: Business Management & Economic Studies
The Influence of Crude Oil Price, Consumer Confidence, Exchange Rate and Gdp Growth Rate Toward Sales Number of
Pt. Toyota Astra Motor
Pages 1-17
Liviana Tio, Purwanto
---
Understanding Factors that Affect Level of Oral Communication Apprehension between Accounting and Non-Accounting Students: A Literature Review
Pages 18-24
Shahida Shaharuddin,Farah Amalina Md Nawi, Maslina Mansor
---
Economic Burden of Psoriasis: Review of Literature
Pages 25-35
Nor Azmaniza Azizam, Aniza Ismail, Saperi Sulong, Norazirah Md Nor, Zafar Ahmed
---
Stress Management and Oncology Nurse Behaviours: An Association in Nursing Profession
Pages 36-45
Nor Intan Shamimi bt Abdul Aziz, Mumtaz bt Ahmad

---
The Effect of Capital Structure on Corporate Performance: Evidence in Vietnam
Pages 46-61
Hoang Thi Thanh Hang
---
The Effect of the New Logo and Brand Image Towards the Customer Loyalty of Starbuck, Jakarta
Pages 62-72
Dini Turipanam Alamanda, Arif Partono Prasetio
---
Theorizing Attitude towards Islamic Financing Adoption in Integrative Model of Behavioral Prediction – A Proposed Conceptual
Framework
Pages 73-83
Purnomo M Antara, Rosidah Musa, Faridah Hassan
---
Managerial Characteristics and Perception Factors in Export Readiness.
Pages 84-94
Herwina Rosnan, Shamsul Baharin Saihani, Halimi Zakaria
---
Business Model Innovation in Public Television Station
Pages 95-113
Genia Gita, Farah Alfanur
---
Earnings Management And Performance Analysis Company Doing Initial Public Offering In Indonesia Stock Exchange
Pages 114-123
Rr.Yoppy Palupi Purbaningsih, SE, M.Ak
---
The Factors Affecting Employees' Performance In PT. Jakarta Outer Ring Road (PT. JLJ)
Pages 124-128
Waseso Segoro & Yuniar Risky Gustiawati
---
Banking Fragility Sector Index and Determinants: A Comparison between Local-based and Foreign-based Commercial Banks
in Malaysia
Pages 129-145
Noryati Ahmad & Nurul Farhana Mazlan
---
Impact of Dividend Policy on the Shareholders' Wealth: Shariah vs Non-Shariah Compan
Pages 146-159
Farazida Mohd Akit, Nor Haliza Hamzah, Noryati Ahmad
---
Review on Recording of Account Receivables At Pt. Pindad Mitra Sejati
Pages 160-169
Debbie Christine, Mochamad Rahadian
---
The Analysis of Organization Performance using Balanced Scorecard at PT.Bank Jabar Banten
Pages 170-180
Widi Hatian, Herry Irawan
---
Test of Arbitrage Pricing Theory: Evidence from Indonesia
Pages 181-195
Winarto Jacinta
---
Customer Loyalty Determinants for Full Service Airlines (Fsa)
Pages 196-206
Reni Heviandri Riandarini, Ujang Sumarwan, Kirbrandoko, Lilik Noor Yuliati
---
Q Methodology as Innovative Research Method in Knowledge Management
Pages 207-213
Dr. Sumayya Banna & Dr. Andri Ottesen
---
The Role Of Marketing Environment Audit In Marketing Performance Through Index Of Services Marketing Excellence (Isme) In Bandung Stars Hotel
Pages 214-221
Likewati, W.O, Kartini, D, Ariawati,R and Sari, D
---
Competitiveness Strategy Model for Effective Organizational Structure of Higher Education in East Kalimantan
Pages 222-230
Apriani Fajar, Sangkala Yunus, Muhammad, Baharuddin
---
A Study on the Performance of Permanent Lecturers of Management Department in Private Higher Education in Bandung Indonesia
Pages 231-244
Fetty Poerwita Sary
---
Green Production of Batik Industry Based on MTS Model in Solo Indonesia
Pages 245-53
Taufiq Immawan, Marimin, Yandra Arkeman, Agus Maulana
---
The Test Of Gender Diversity And Financial Structure To The Cost Of Financial Distress: Evidence From Indonesian Family Business
Pages 254-264
Farida Titik Kristanti
---
Profitability and its Effects on Share Prices
Pages 265-274
Trenggana, Arlin F.M, Bowopoernomo, Hery
---
Design Control Procedures Nonconformity, Corrective and Preventive Action Under Clause 8.3, 8.5.2, 8.5.3 Of Iso 9001: 2008 And Clause 4.5.3 of Iso 14001: 2004 At Cvgradient Using Business Process Improvement Method
Pages 275-282
Widaningrum,Sri,Iqbal Muhamad,Lubis Marina Yustiana,Soeryadini Pratya Poery Khalidah Hana
---
The Analysis of Perception of Useless, Ease, Social Influences, Trust and Cost and the Effect on The Interest of Using the Online Transaction by Smartphone
Pages 283-292
Mustikasari Ati1, Widaningsih Sri
---
Consumer Attitudes Analysis toward Green Product Sariayu Martha Tilaar and the Body Shop (Study on University Student in Bandung)
Pages 293-302
Nurafni Rubiyanti, Arry Widodo, Kiki Rizky Yulianti
---
Factors Influencing Green Purchasing Behavior (Study on University Student in Bandung)
Pages 303-313
Arry Widodo, Nurafni Rubiyanti, Tiara Nandary
---
Entrepreneurship Knowledge, Training Home Industry, and Attitude towards Entrepreneurial Intention Enterpreunership
Pages 314-325
Dr Endang Ruswanti
---
Green Marketing Strategy Analysis to Brand Trust Through Marketing Mix Approach (Study on the Body Shop Users in Bandung, West Java)
Pages 326-334
Suryawardani Bethani,Wulandari Astri,Husnul Hanifa, Fanni
---
Modelling of Poverty Panel Data in Java with Spatial Durbin Model
Pages 349-356
Agusti Rakhmi, Djuraidah Anik
---
Entrepreneurship Innovation Strategy in Business Communication: A Case Study in the Achievement of Growth Pt Edu Media Komunika
Pages 357-378
Muhammad Sufyan Abdurrahman, Rah Utami Nugrahani
---
Track: Social Sciences and Humanities
A Study into the Effects of Preschool Education on the Emotional Skills of First Graders
Pages 379-388
M.L. Fowzul Ameer
---
Entanglement between Visitor and Attractions through Sensory Experiences Perspective in the Context of Cultural Heritage Tourism
Pages 304-314
Mohamed A.H Milad, Ross Irnawaty Ibrahim and Samiappan Marappan
---
Implementation Model of Mlearning Based Discovery Learning on Teacher Education
Pages 389-402
Abd Rahman, Nur Hidayah, Khalifah, Zainab, Ismail, Hairul Nizam
---
The Important of Balance Diet to the Human Capital Formation on Physical and Mental Fitness
Pages 403-410
---
Soft Skills Construct for Architecture Graduate in Accordance with Industries Requirement
Pages 411-418
Padil Suhaili, Esa Ahmad,Mohamed Jamal Abidah Ainah
---
A Discussion on the Risk Management of Outdoor Education : Literature Review
Pages 419-426
Abidah Ainah, Esa Ahmad, Suratman, Padil Suhaili
---
Implementation of Harmonize Elements in Modern Urban Housing Development
Pages 427-435
Mohd Zul Fahmi Zahari, Radzi Ismail, Mohd Wira Mohd Shafiei, Ilias Said, Fazdliel Aswad Ibrahim
---
Creativity and the Tendency of Choosing A Career as an Entrepreneur Among Metro Polytechnic Students in Malaysia
Pages 436-444
Jailani Md. Yunos, Sri Sumarwati, Fauziah Abdullah
Abstract

Entrepreneurship is a key driver in the economic development of a country. Creativity is closely related to
entrepreneurship because to succeed in running a business, an entrepreneur must be creative. Linked to this,
students are assets for any country on improving the country's economic progress. Therefore career choice is
important because it is associated with life in the future. Involvement of creative graduates in entrepreneurship
can be a career boost to the industrial development. The purpose of this research is to investigate the creativity
and the tendency of choosing a career as an entrepreneur among METrO Polytechnic students in Malaysia. A
total of 42 third semester METrO Polytechnic diploma students were selected as research samples using random
sampling method. The research instrument contains questions that have been modified from TTCT to identify
the level of creativity and other questionnaires to identify the level of tendency on choosing a career as an
entrepreneur. The data were analyzed using frequency, percentage, T-Test and Pearson correlation, then was
performed with SPSS version 16. This study found that the level of creativity and the tendency of choosing a
career as an entrepreneur among METrO Polytechnic students were at the moderate level. In addition, male
students are more creative and more likely to choose a career as an entrepreneur than female students. The
results show that the exposure to entrepreneurial career by informal subjects/course does not necessarily affect the tendency of a student to become entrepreneur. This study also shows that there is a significant relationship between creativity and the tendency of choosing a career as an entrepreneur. In conclusion, the results found that an increasingly high level of creativity among METrO polytechnic students will also increase the high level of tendency on choosing a career as an entrepreneur and vice versa.
---
How E-Zakat Has Changed the Way Muslims Pay Their Zakat in Indonesia
Pages 445-448
Minda Indrani ,Sagi Sagara
---
Smoking on Campus: A Review of Communication among Students Smoker
Pages 449-452
Rita Destiwati
---
Towards Predicting the Walkability of Pedestrian Rail Commuters in Kuala Lumpur Conurbation
Pages 453-470
Mokhlas Hasmi1, Hamid Norlida Abdul, Tan Peck Leong, Mustafa Masria, Sham Rohana
---
Identification the Quantity of Student' the Effectiveness of Theistic Spiritual Counseling in Improving Students' Intrapersonal Competency
Pages 471-476
Iip Istirahayu, Samsu Yusuf
---
A Case Study of Classroom Seating Arrangement to Promote Students Communication Interactivity in Telkom University
Pages 477-482
Lucy Pujasari Supratman
---
A Study of the Effectiveness of Management Development Program
Pages 483-494
Endah Nuranaini, Aji Hermawan, Aida Vitayala Hubeis, Nurmala K. Panjaitan
---
Lecturers Perception of the Soft Skills of Engineering Students in Malaysian Polytechnics
Pages 495-502
Esa Ahmad, Padil Suhaili2, Hassan Suria Sindhi Shariati
---
"The impact of New Media on Child Socialization" Applied Research on basic Education Schools in Muscat Governorate–Sultanate of Oman
Pages 503-525
Dr. Emad Farouk Saleh,Dr. Anwar El-Rawas
---
Implementation of Public Policies in Female- Single Parent with Disability: in the Perspective of Social Innovation in Public Sector
Pages 526-530
Ika Nugrahaeni, Hendrati Dwi Mulyaningsih
---
Track: Physical Life and Applied Sciences
The Three Tier-Test for Identification the Quantity of Students' Misconception on Newton's First Laws
Pages 531-537
Yudi Kurniawan, Andi Suhandi2
---
Bark Ph as A Factor Affecting Number of Algal Density of Epiphytic Terrestrial Algae in Putrajaya, Malaysia
Pages 538-547
Ihsan Alwi, Asmida Ismail,Siti Khairiyah Mohd Hatta,Faeiza Buyong,Norashirene Mohamad Jamil,Norrizah Jaffar Sidek,Noor Akmal Wahab7,Ahmad Ismail
---
Land Productivity and Cost Production of Food Crop Farm as Land Institutions and Farm Environment in Sub Watershed Upstream Solo Indonesia
Pages 548-570
Suwarto, S. Anantanyu, Suwarto
---
Identification of Quantity Students' Misconceptions on Hydrostatic Pressure with Three Tier-Test
Pages 571-575
Riski Muliyani, Ida Kaniawati
---
Track: Engineering and Technology Studies
Business Success through Relationship Marketing Identification of Red Chili Producers Based on the Six Markets Model
Pages 576-586
Joe E. Amadi‐Echendu
---
Integrated Ground System Application Security System Framework
Pages 587-594
Nina Hendrarini, Febriadi santosa
---
Electromagnetic Field Radiation from TELCO Towers : Public Opinion and Non-specific Health Effects
Pages 595-601
Dr Adlina Suleiman, Dr Thor Teong Gee
Abstract

There has been increasing public concern on the effects of electromagnetic field radiation (EMR) from telecommunication towers (TELCO). These towers have been constructed in housing areas, school compounds, apartments, multi-storey shop-lot rooftops and within compounds of mosques throughout Malaysia and other countries. This paper will discuss four studies on public concern of EMR from TELCO towers that were conducted at Petaling Jaya, Taiping, Penang Island and Johor Bahru residential areas since 2008. There was one group of residents on Penang Island that was taken as a control group since they were not exposed to EMR from TELCO tower.This study found that the residents who were exposed to the EMR felt that the TELCO towers should be removed, the authorities should not have been allowed to build the towers; and residents would even move out of the area within the vicinity of a TELCO tower because they were concerned of the health effects.
The intention of this paper is not to dismantle TELCO towers in housing areas, instead it serves to create awareness on the health effects of EMR and to suggest a change in policy that would convince operators to reduce transmitted power from 20W/carrier to max 1-2 W in dense urban area or to observe a minimal distance of residence from cellular phone base stations that is more than 150 m.
---
Virtual Class using Web and Smartphone as Supporting Tool for Successful Computer Networking Course
Pages 611-616
Mia Rosmiati & Yahdi Siradj
---
Mobile Electronic Nose Architecture for Beef Quality Detection Based on Internet of Things Technology
Pages 617-625
Dedy Rahman Wijaya1,Riyanarto Sarno
---
Measurement the Level of the Knowledge Management System Implementation on People, Structure, Culture, and
Technology Factor Using Analitycal Hierarchy Process (AHP) Method at Telkom University
Pages 626-634
Ambarsari Nia, Arifanto Yogi, Kurniawati,Amelia

---
Track: Health and Medicine Studies
Evaluation of Clinics on the Provision of Youth Friendly Services in the Ethekwini Metro of Kwa Zulu Natal
Pages 635-645
Panjasaram Naidoo (PhD)

---
Managed Care: What Do Private General Practitioners (Gps) Think?
Pages 646-657
Shamsinar Ibrahim, Prof. Dr. Mohd Rizal Abdul Manaf ,Dr Azimatun Noor Aizuddin

---
Kemuning: An Analysis of anthropology of Health
Pages 658-662
Dr.Junardi Harahap

---
Bekam Treatment: Cheap, Holistic and Changes Paradigm
Pages 663-667
Dr. Junardi Harahap

---
Transformation Study of Implementation of National Health Insurance (Nhi) at Mamuju Regency, Indonesia
Pages 668-675
Muh. Kardl Rais,Suhadi, Zainuddin,Alimin Maidin,Sukri Palutturi

---
Fraud Prevention in National Health Insurance Implementation in Kendari City, Indonesia
Pages 676-684
Suhadi, Muh. Kardl Rais, Zainuddin, Alimin Maidin,Sukri palutturi

---
Analysis on National Health Insurance Financing at Jeneponto Regency, Indonesia
Pages 685-693
Analysis on National Health Insurance Financing at Jeneponto Regency, Indonesia

---
Detection of Cervical Cancer Disease using Adaptive Thres holding Method by Image Processing
Pages 626-634
Eggi Intan Putri, Rita Magdalena & Ledya Novamizanti

---
A Comparative Study on Healthy City Capacity Mapping:Indonesia and Korea
Pages 704-717
Sukri Palutturi, Cordia Chu2, Ji Young Moon, Eun Woo Nam

---
Professional challenges to strengthen partnerships in the implementation of Healthy Cities in Indonesia: A case study of Makassar
Pages 718-728
Sukri Palutturi, Shannon Rutherford2, Peter Davey, Cordia Chu2