---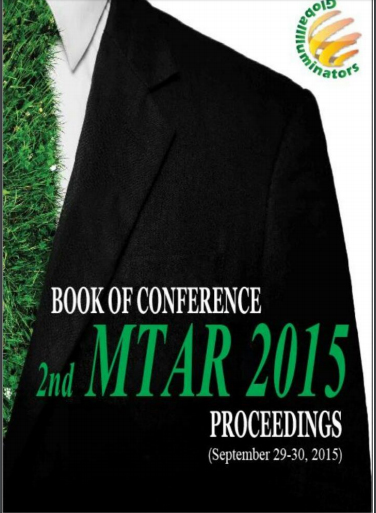 MTAR Proceedings
Copyright © Global Illuminators. All rights reserved
MTAR Proceeding
Volume 2, Pages 1-327
2015 MTAR Conference on "MULTIDISCIPLINARY TRENDS IN ACADEMIC RESEARCH" (MTAR 2015)
September 29-30, 2015 Bangkok Thailand
Edited by Dr. Saddam Hussain
Volume 1
pp. 1-278 (2014)
2014 MTAR Conference on "MULTIDISCIPLINARY TRENDS IN ACADEMIC RESEARCH" (MTAR 2014)
Volume 2
pp. 1-327 (2015)
2015 MTAR Conference on "MULTIDISCIPLINARY TRENDS IN ACADEMIC RESEARCH" (MTAR 2015)
Volume 3
pp. 1-89 (2016)2016 MTAR Conference on "MULTIDISCIPLINARY TRENDS IN ACADEMIC RESEARCH" (MTAR 2016)

Track: Business Management & Economic Studies
Investigating Factors Influencing Profits Enhancement in Real Estate Companies in Ho Chi Minh City, Viet Nam.
Pages 1-9
Nghia Hoai Nguyen Chinda, Thanwadee
---
Awareness on Asean 2015 Integration, Managerial Flexibility and School Preparedness for Transnational Students Basis for A Cross-Cultural Adaptation Program
Pages 10-29
Maribeth Q. Galindo1*, Renan P. Limjuco
---
Global Financial Crisis and Financial Contagion: an Empirical Evidence of the US, Canada, UK, Germany, Italy, France and Spain
Pages 30-37
Sirin Tangpornpaiboon, Nattapong Puttanapong
---
The Long-Horizon Invalidity of Uncovered Interest Parity (UIP) after the Global Financial Crisis: the Case of Thailand and Singapore using Panel Cointegration Test
Pages 38-48
Tanat Anutrakulchai, NattapongPuttanapong

---
A Case Study on the International Cooperation between Taiwan and Burkina Faso
Pages 49-55
Lih-fu Chen
---
Investigation of The Economic Risks Reasons in The Marine Transportation
Pages 56-60
Liudmila G. Kuznetsova
---
Fly-In Fly-Out (Fifo) Accommodation in Remote Regions: How Can Good Design Help?
Pages 74-78
Hsiao-Ching Yang
---
Innovation And Other High Performance Work Practices For Organisational Improvement
Pages 79-86
Dr. Wurim, Ben Pam
---
Track: Social Sciences and Humanities
Effect of Post Multi Fiber Agreement – A Blessing for Bangladesh: Study of Survival Strategy
Pages 87-97
Rahman, Fahmida Saadia
---
Study of Socialization Process: Violence against Children Do Parents who Live on the Streets of Surabaya, East Java, Indonesia
Pages 98-105
Unsiyah Anggraeni, Anis Mubasyiroh, Dian Hikmawati.,Dwi Ayu K. , Riza Dian Ayunani
---
Knowledge Society: An Education-Development Nexus
Pages 106-110
Bhaskar Arnab, Goswami Chinmoy
---
The Applications of Process Control System (PCS) among the Top Corporations in Metro Manila, Philippines and its Perceived Advantages and Disadvantages
Pages 111-118
Harvey T. Ong,
---
Motherhood Practices of Teen Mothers in Family: A study in Khon Kaen Province in Northeastern Thailand
Pages 119-125
Muensit, Ampai Thongyou, Maniemai, Lapanun, Patcharin
---
Use of the Hand as a Diagnostic Instrument
Pages 126-135
Kohombange, Kanchana
---
Model of Hope: Leading Learning among the Indigenous Orang Asli Students
Pages 136-150
Misnaton Rabahi, Dr. Hamidah Yusof, Marinah Awang
---
Developing Task – Based Writing Materials for Engineering Students
Pages 151-159
Felipa M. Rico
---
Understanding Philippine Historiography in Friedrich Wilhelm Nietzsche"s
Philosophy
Pages 160-169
Abonado, Asisclo III Matunding
---
Laity"s Involvement in the Church: An Analysis Through Karol Józef Wojtyła"s Theology and Gabriel Marcel"s Philosophy
Pages 170-175
Prof. Danilo G. Baradillo, Roel D. Calvo Jr.
---
Lived Experiences of Lesbian, Gay, Bisexual, and Transgender Personalities Amidst Career Opportunities in Contemporary Workplace
Pages 176-187
Mona Laya, Jaye Camille Andrada, Joseph Ray Estrella
---
Students" Behavioral Intentions to Indulge in Selfie and Groufie Activities: A Path Analysis
Pages 188-195
Renan P. Limjuco, John Rey A. Aleria, Ma. Veronica A. Bautista, Nicole Alexandria Ramiro & Marilyn H. Ato
---
Diagnosis of Plantwide Oscillations: A Harmonics Analysis Approach
Pages 196-201
Nahid Sanzida, M. A. A. Shoukat Choudhury
---
The Effects of Incorporating Mind Mapping with Picture-Book Reading Instruction on the Reading Comprehension Ability of 1st Grade Elementary School Students
Pages 202-212
Wang Hsin-Yi
---
Primary Development of the Verbal Aptitude Test for Primary School Students (Grade 3-4)
Pages 213-224
Meng-liang SHI
---
Textual Constructions of High-rated and Low-rated
Literature Review Discourse
Pages 225-249
Cheng-hua Hsiao
---
Effective Reading strategies for Assisting Children with Reading Difficulties.
Pages 250-258
Rui-Cheng Hong, Chun-Han Chiang, Hsiao-Lan Chen
---
Comparative Analysis of Teaching Competency of Physical Education Teachers of Bulacan State University
Pages 259-266
Marvin R. Tullao
---
Exploring the Difficulties in Implementing Maintenance Programme for Public Housing
Pages 267-275
Shardy Abdullah, Arman Abdul Razak
---
Track: Health and Medicine Studies
The Effect of Indian mallow (Abutilon indicum) Hydroethanolic Extract on Levels of Reproductive Hormones of Female Albino Rats
Pages 276-286
Kathleen Bersabal, Adorico M. Aya-ay, ChukwudumKingsley
---
Ethnobotany of Ferns and Fern Allies in Mount Macabol, Marilog District, Davao City, Philippines
Pages 287-294
Adorico M. Aya-ay
---
Indifferent Attitudinal Issues of Young Males on Human Immunodeficiency Virus/ Acquired Immune Deficiency Syndrome (HIV/AIDS) Acquired through Males Having Sex with Males (MSM) Activities
Pages 295-313
Ma. Veronica A. Bautista, Jessica T. Bulacan, Jan Carlo B. Salcedo, Leonil Aljen Verdida
---
Academic Proficiency, Internship Performance Rating, and the Preparedness To Ascpi Certification of the Medical Technology Graduates in Region Xi: Basisfor the Enhancement of Clinicalinternship Curriculum
Pages 314-327
Dr. Avee Joy Besares-Dayaganon, Dr. Renan P. Limjuco