---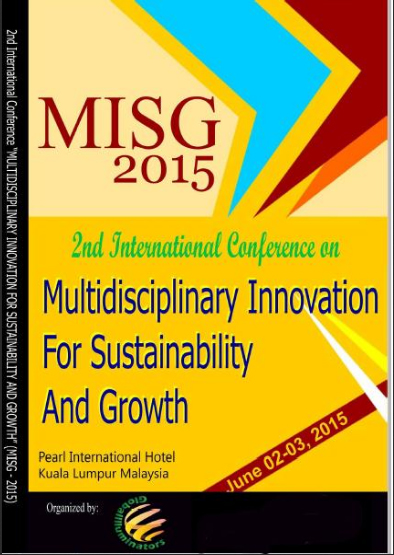 MISG Proceedings
Copyright © Global Illuminators. All rights reserved
MISG Proceeding
Volume 2, Pages 1-250
2015 MISG Conference on "MULTIDISCIPLINARY INNOVATION FOR SUSTAINABILITY AND GROWTH" (MISG 2015)
June 02-03, 2015 Kuala Lumpur, Malaysia
Edited by Dr. Ahmed Saddam
Volume 1
pp. 1-127 (2014)
2014 MISG Conference on "MULTIDISCIPLINARY INNOVATION FOR SUSTAINABILITY AND GROWTH"
(MISG 2014)
Volume 2
pp. 1-250 (2015)
2015 MISG Conference on "MULTIDISCIPLINARY INNOVATION FOR SUSTAINABILITY AND GROWTH"
(MISG 2015)
Volume 3
pp. 1-100 (2016)
2016 MISG Conference on "MULTIDISCIPLINARY INNOVATION FOR SUSTAINABILITY AND GROWTH"
(MISG 2016)
Volume 4
pp. 1-95 (2017)
2017 MISG Conference on "MULTIDISCIPLINARY INNOVATION FOR SUSTAINABILITY AND GROWTH"
(MISG 2017)

Track: Business Management & Economic Studies
Structural Ambidexterity vs. Contextual Ambidexterity: Preliminary Evidence from Malaysia
Pages 1-13
Mohamad Faizal Ahmad Zaidi, Siti Norezam Othman
---
Trademark Activity for Sustainable Growth in an Emerging Economy
Pages 14-20
Siti Nurain Mohamed Ridzuan, Farha Abdol Ghapar, Veera Pandiyan Kaliani Sundram
---
Industrial Design Protection for Sustainable Growth in Malaysian Firms' Financial Performance
Pages 21-29
Nur Kartika Elani Yayanto, Farha Abdol Ghapar, Norashikin Ismail
---
Supply Chain Risk Identification in Electrical and Electronics Industry: An Exploratory Study in the Context of Malaysia
Pages 30-50
Ali Haj Aghapour, Suhaiza Zailani, Govindan Marthandan
---
Relative Contribution of Loyalty Program and Store Attributes to Store Engagement and Store Equity
Pages 51-66
Suhaily Mohd Ramly, Nor Asiah Omar

---
Track: Social Sciences and Humanities
Improving Awareness of the Water Crisis in South Africa
Pages 67-78
Charles van der Vyver
---
Arabic and Islamic Manuscripts Study as Multifaceted Process
Pages 79-84
Oleg Redkin
---
Arabic Acquisition in Islamic Studies Programs
Pages 85-90
Dr. Olga Bernikova
---
The Effects of Mother-Child Communication Skills Education on Children's Skills to Express Emotions
Pages 91-98
Dr. Gülay Temiz, Dr. Aysel Çağdaş
---
Examination of the Effects of Computer Assisted Preschool Educational Activities on Children's Intuitive Mathematical Ability
Pages 99-106
F. Ülkü Yildiz, Gökhan Kayılı
---
Properties Of Eco-Brick Manufactured Using Kenaf Fibre As Matrix
Pages 107-114
Hanisom Abdullah, Ahmad Kamil Jamaai
---
Science Teachers' Continuous Professional Development: Nature of School
Based Teacher Training and its Implementation
Pages 115-127
Mohd Shafik Yahya, Mohamad Hisyam Ismail, Muhamad Furkan Mat Salleh & Nabilah Abdullah
---
Malay and Spanish Text Translation Comparison Based on Meaning Relevance
Pages 128-138
Salina Husain, Muhammad Fauzi Jumingan, Norazmi Danuri
---
Prevalence of Self-Hurt Behavior among Adolescents in Malaysia
Pages 139-147
Guan Teik Ee,Rahimi Che Aman
---
Track: Social Sciences and Humanities
Asynchronous Learning Tools Use in Graduate Study: A Preliminary Survey
Pages 148-156
Nor Rashimahwati Tarmuchi, Haslinda Mohamed,Saidatul Akmar Ismail
---
Virtual Reference Services at a University Library
Pages 157-172
Haslinda Mohamed, Saidatul Akmar Ismail, Nor Rashimahwati Tarmuchi, A'dillah Mustafa
---
Track: Engineering and Technology Studies
Properties of Eco-Brick Manufactured using Kenaf Fibre as Matrix
Pages 173-179
Hanisom Abdullah, Ahmad Kamil Jamaai
---
Physical-chemical analysis of MC-co-PAAm and application
Pages 180-190
Yessimkanova U.M., Urkimbaeva P.I., Rakhmetullayeva R.K., Kurmanbekova A. K., Urkimbaeva Zh. R., Mun G. A.
---
The New Hybrid Copolymers Based on N-isopropylacrylamide
Pages 191-200
Rakhmetullayeva R.K., Nakan U, Kurmanbekova A.K.,Mamutova A.A, Toktabaeva A.K, Negim E.S.M, Nursultanov.M.E
---
Artificial Neural Network Modelling Ginger Rhizome Extracted Using Rapid Expansion Supercritical Solution (RESS) Method
Pages 201-218
N.A., Zainuddin., Norhuda, I., Adeib, I.S., A.N.Mustapa, S.H., Sarijo
---
Sentiment Analysis Applied to Airline Feedback to Boost Customer's Endearment
Pages 219-232
Arockia Xavier Annie R, Vignesh Mohan, Sree Harissh Venu
---
The Correlation of Consumable Wire Feed Rate with Welding Current in GMAW Process
Pages 233-238
Mohd Shaifuddin Wahab, Abdul Ghalib Tham, Sunhaji Abas, Nik Mohd Baihaki Abd Rahman, Razali Hassan, Yupiter HP Manurung, Mohd Ridhwan Mohammed Redza
Abstract

Gas metal arc welding (GMAW) has been widely applied in metal fabrication industry. Only the correct selection of welding parameters will produce quality weld deposition. In most GMAW welding system, the actual welding current will always be different from the value selected before the start of welding, as a result some of the weld bead geometries would have incorrect size and defect. In order to obtain a good quality weld, it is therefore necessary to develop a guiding system to enable the selected welding current should be closed to the actual welding current. This project investigates the correlation of consumable wire feed rate (WFR) with respect to the welding current. At constant wire extension, travel speed and arc voltage, the values of welding current were recorded when welded at WFR range from 2m/min to 14m/min. Robotic GMAW with CO2 shielding was employed in the welding of 9mm carbon steel in 1G position. The correlation of WFR and welding current for a specific arc voltage can be expressed in a polynomial equation of second order. Based on this correlation, the actual welding current for any specific arc voltage can be predicted accurately before the start of the welding operation, provided the weld quality is visually acceptable. The predicted welding current was validated by experimental welding records, the average deviation was found to be less than 10 amperes. The result proved that WFR is a right factor for the accurate determination of actual welding current in GMAW process.
---
Highly Dispersed Polymer Suspensions with A Narrow Particle Size Distribution for Biotechnology
Pages 239-250
D.B.Adikanova, G.Zh.Yeligbaeva, I.A.Gritskova, E.V.Milushkova, S.A. Gusev