---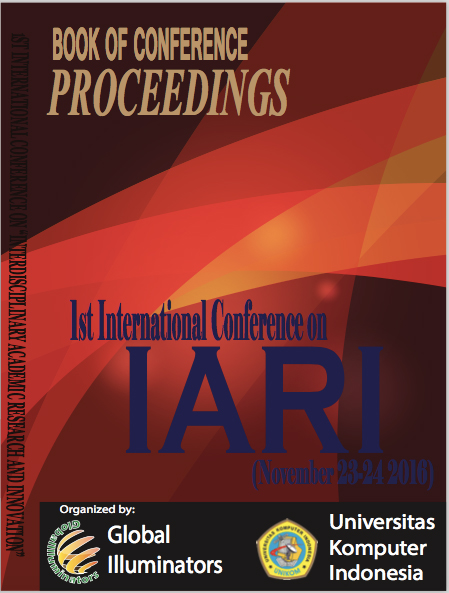 IARI Proceedings
Copyright © Global Illuminators. All rights reserved
IARI Proceeding
Volume 1, Pages 1-469
2016 IARI Conference on "INTERDISCIPLINARY ACADEMIC RESEARCH AND INNOVATION" (IARI- 2016)
November 23-24 2016 Bandung, Indonesia
Edited by Dr. Ahmed Saddam
Volume 1
pp. 1-469 (2016)
2016 IARI Conference on "INTERDISCIPLINARY ACADEMIC RESEARCH AND INNOVATION" (IARI- 2016)

Track: Business Management and Economic Studies
Business Sustainable Model for MSME in Indonesia 

Pages 1-4
Z Yeffry Handoko, Herman S. Soegoto, Deden A.Wahab S., Rahma Wahdiniwaty

---
Cause and Effect of Accounting Information System (A Study in National Zakat Management Organization)

Pages 5-13
Adeh Ratna Komala

Abstract

Cultural organizations can improve the quality of accounting information systems. The quality of accounting information system can affect the quality of accounting information. The phenomenon that occurs in an organization in Indonesia shows the accounting information system has not been qualified so that the accounting information has not been qualified either. This study was conducted to seek the truth through testing that shows the influence of organizational culture on the quality of accounting information systems that have an impact on the quality of accounting information. The data which was used was obtained through a survey by distributing a questionnaire to 38 recorded zakat management organizations and active in Zakat Organizations Forum (FOZ), processed statistically using SEMPLS. The research method used explanatory research method, to get the basic answers of cause and effect by analyzing the causes of problems in the quality of accounting information systems and the quality of accounting information. The results showed that the issue on the quality of accounting information that has not happened because it has not been the quality of accounting information system. The accounting information systems have not been optimal because it has not been the quality of organizational culture.

---
The Analysis and Evaluation on the Supplying Goods Controlling System

Pages 14-24
Dimas Wahab Pangestu, Novrini Hasti, R. Fenny Syafariani

---
Creative Industry Potential Model for Micro, Small and Medium Scale in West Bandung Based on Geographic Information System

Pages 25-33
Rahma Wahdiniwaty, Dra1, Deden A. Wahab Sya'roni2, Eko Budi Setiawan

---
SM Analytics: Impact of SM Engagement Metrics on Online Purchase Intention

Pages 34-41
Zoha Rahman, Kumaran Suberamanian, Hasmah Zanuddin, Sedigheh Moghavvemi, Mohd Hairul Nizam Bin Md Nasir

---
Phone Charger Portable Design

Pages 42-48
Sutono

Abstract

As an electronic device, mobile phone chargers require battery power. 9 volt battery can be used to recharge the phone battery by reducing the mains voltage is adapted to the needs of the mobile phone. Based on the analysis of research, Charger Mobile Portable memenfaatkan energy 9 volt battery to recharge the mobile phone battery will be more functional than the cell phone charger in general, especially when you're traveling out of the house, armed with a 9 volt battery which is easily available in the shop or store electricity we do not feel fear, then, when on the way we use mobile phones suddenly died of kahabisan battery.

---
The Effects of Heart Count on Employees' Perception on Separation

Pages 49-54
Chue Kar Wen, Rajendran Muthuveloo, Teoh Ai Ping

---
The Determinants of Firm Value on Commercial Banks in Indonesia

Pages 55-66
Kusiyah, Mts. Arief

---
The Role of Socio Entrepreneurial Leadership in an Organization and Business Success (A Study Case in a Hospital, Bandung)

Pages 67-70
Sya'diah, Sri Djatnika

---
Social Media Content Analysis: Study on Brand posts of Electronics Companies

Pages 71-80
Zoha Rahman, Kumaran Suberamanian, Hasmah Zanuddin, Zanuddin, Sedigheh Moghavvemi, Mohd Hairul Nizam Bin Md Nasir

Abstract

Social Media is considered as a first-rate open communication platform to connect directly with customers. One of the most noteworthy customs to connect with the consumers through these Social Networking Sites (SNS) is to create a Facebook fanpage with brand contents and to place different posts periodically on these fanpages. According to different posts or contents placed on the fanpages, consumer responses in different manners. Usually users click like button on particular brand fanpages and then put like, comments or keep sharing on particular posts of fanpages. These types of consumer activities in fanpages reflect brands' post interactivity and engagement. Most importantly, in measuring social networking sites' effectiveness, corporate houses are now analyzing metrics in terms of calculating engagement rate, number of comments/share and likings in fanpages .So now, it is very vital for the e- marketers to identify the effectiveness of different contents or posts of fanpages in order to increase the fan engagement rate in the fan pages. In the study the authors have used the Netnographics technique and analyzed total 1325 brand posts from 17 international brands of Electronics companies. Data of 8 months (From September 2015- April 2016) have been collected for analyses, which were available online from Brand' fan pages. Finally the authors analyzed the descriptive statistics (Post frequency, post engagement metrics) of different posts in each Brand fanpages. The study elaborated the types of post in fanpages and their implication on generating users' engagement activities. Findings discovered two types of post (Image with details and feature video post) most effective in producing user engagement. The descriptive statistics will guide the e-marketers of Electronics companies to have a comprehensive idea on social media content strategy.

---
Modernity and Lifestyle: Analysis of Generation Y on Creative Industry Product

Pages 81-89
SHarti

---
The Influence of Knowledge Management towards Employee's Competence and its Effect to the Employee's Performance

Pages 90-103
Darna, Nana, Kader, Mukhtar, Abdul

---
The Role of Public Accountant Integrity to Public Accountant Professionalism in Detecting the Manipulation of Financial Statements

Pages 104-110
Ely Suhayati

---
Interactive E-learning System Using Laravel Framework

Pages 111-117
Lestariningati Susmini Indriani, Nurhayati, Sri, Hidayat, Zarman, Wendi, Sujana,
Aprianti Putri

Abstract

E-learning can be defined as the use of computer and Internet technologies to deliver a broad array of solutions to enable learning and improve performance. This paper discussed the development of interactive e-learning system using Laravel framework, due to evolving elearning system. The benefits of Laravel Framework are quick, also functional core can be extended and easy integration with third-party libraries. Interactive e-learning system designed by ADDIE model approach, for two kind of e-learning implementation that are of ELearning Content and Virtual Classroom using Girardhini approach. The application is implemented on Linux Ubuntu Operating System and Laravel as a framework, with the simulation of e-learning content and virtual classroom access by user's web browser has been passed the alpha test and use in Computer Engineering, UNIKOM, for Data Communication subject.

---
Analysis Branding Bandung City

Pages 118-132
Nurbasari Ann

---
Emotional , Social , Professional Competencies Predicting Effectiveness Leader in Higher Education to Ward World Class University

Pages 133-148
Dyah Kusumastuti, Sri Astuti Pratminingsih, Eriana Astuty

---
Knowledge Management Models Pt. Xyz

Pages 149-160
Irfan Maliki, Tati Harihayati, Nelly Indriani

---
Analysis of Natural Potency and Role of Micro, Small, and Medium Business and Local People of Sayang Heulang Beach in the Context of Development of Tourism Region on Southern Garut Coast

Pages 161-172
Ivan Kurniawan, Deni Albar, Taufan Hidayatullah

Abstract

Sayang Heulang beach located in Coastal Tourism Region of South Garut. As one of the leading tourist destinations projected by Garut regency, Sayang Heulang should had leverage to attracts travelers. In the past 3 years, the development of infrastructure such as roads and electricity provision has been made, but there no impact affecting significantly. According to data obtained from Disbudpar Garut, the highest number of visits is reached by Santolo Beach. It recorded that Santolo reached 300% more visits than the surrounding beaches, especially Sayang Heulang. Thanks to the image and information access about Santolo, that has spread across the Internet through blogs and a variety of popular media. This condition is certainly not a positive thing related to determination of Coastal Tourism Region of South Garut as a tourist destination, because people tend to focus on one destination only. Thus the need to do research on the potential of nature and the conditions of the local people at Sayang Heulang Beach. The study use qualitative approach to seeks and explore the potential of nature and society associated with tourism activities by using 7 methods of marketing mix. Data were collected using observation and continued with focus discussion group involving local business, local people, and Disbudpar Kab. Garut. Focus discussion group found that there is harmony between the local community's desire and Disbudpar's program as a results. The study also found that Sayang Heulang Beach has a very unique topography, such as existence of a small islands, estuaries, and exotic grass hill. Another things that occurs is the readiness of infrastructure and tourism community activists in the field of motel and culinary specialty. But all of that not packaged by good promotion, tourism activists still rely on word of mouth promotion traditionally.

---
Analysis of Internal Control System and Implication of Local Financial Accounting System On Local Financial Report Quality in Local Government


Pages 173-186
Ony Widilestariningtyas, Kamilah Noer

---
How E-Commerce Web Quality and Customer Experiences can take the Online Purchase Intention Up? Case Study: E-Commerce of General Insurance Product

Pages 187-193
Mts. Arief , Brata Wibawa Djojo, Henry Purnomo

---
Business Model Innovatoion in the Internet Marketing Adoption Context

Pages 194-202
Irzanita Wathan , J. Abi

---
The Analysis Satisfaction of Water Services Using Kano Model in Pdam
Tirtawening Bandung West Region

Pages 203-210
Diana Andriani, Made Aryantha Anthara, Julian Robecca

Abstract

The Quality of services provided by the company is the most important yardstick for measuring customer satisfaction. PDAM TIRTAWENING Bandung City West area, is one of the local state-owned units engaged in the distribution of clean water. The study was conducted using a model of Kano to categorize how well the attributes of the service are able to meet customers satisfaction. The results from this study indicate that there are three categories of Kano that Must Be, One Dimensional and Indifferent on the attributes of service and are dominated by Mustbe category. These attributes indicate, the wishes of the customer service PDAM TIRTAWENING Bandung City West region has been met, but the levels of satisfaction of these attributes are still low, is seen in 13 (thirteen) attributes are below the value of 0.5 of the range of 0 – 1, and only an attribute is above 0.5. It is an indicator that the attribute-value customer satisfaction PDAM TIRTAWENING Bandung City West region attributes must be enhanced by improving service of these attributes.

---
Phenomenon of Digital Word of Mouth to the Smartphone Buying Decision

Pages 211-221
Irwan Tarmawan, Taufan Hidayatullah

---
The Influence of Job Satisfaction and Organizational Commitment to the Organizational Citizenship Behavior in Pt.Haier Sales Indonesia Bandung Branch

Pages 222-231
Vanny Ayu Saraswati, Dedi Sulistiyo S.

---
Entrepreneurial Orientation and Business Performance: The Mediating Role of Organizational Learning and Innovation in State Owned Enterprise in Indonesia


Pages 232-248
Urip Sedyowidodo, Ernie T. Sule

---

Track: Engineering and Technology Studies
The Design of Android-Based Sundanese Language Learning Application for Sixth Grade Students in Bandung

Pages 249-256
Kankan Kasmana, Tiara Isfiaty, Mira Rahayu

Abstract

Various effects of globalization in every aspect of life have resulted in rare usage, low maintenance and development of Sundanese language especially in adolescents, including in Bandung, a city that has grown into an urban area with metropolitan lifestyle. Therefore, the Local Regulation number 9 was made in 2012 to arrange the rules on the Use, Maintenance and Development of Language, Literature, and Sundanese script. As part of its implementation, a program called Rebo Nyunda was made. However, in practice, the program has not been done optimally. This is because in this transcultural and multicultural era, the media serves more interesting varieties of content from other countries. This is a qualitative research with case study method, which involves primary school children in the city of Bandung, also the expert of literature and culture of Sunda, Sundanese language teacher, game consultant, and the user to get the proper formulation in designing Sundanesse language learning application. This study is a solution that can bridge the city government program, so that the Sundanese language can be learned through smartphone technology, especially in children sixth grade elementary school. The design concept is edutainment with a form of Android-based application.

---
A Decision Support System to cluster a Priority Development Sub Town in Education Field with K-Means Clustering Algorithm (Case study Center Java Province of Indonesia)

Pages 257-268
Nursikuwagus, Agus, Hartono, Tono

---
Application Artificial Neural Network-Image Processing to Seismic Wave Propagation of Carbonate Rock

Pages 269-274
John Adler, Selvia Lorena Br Ginting, Bagus Endar B. Nurhandoko, Pongga Dikdya Wardaya

---
Implementation ID3 Algorithm to Predict Children Achievement in Response (Case Study Children Playgroup School)

Pages 275-279
Nursikuwagus, Agus, Melian, Lusi, Permatasari, Deasy

---
Build and Design of Atmospheric Balloon Altitude Control Based on Multiwii

Pages 280-288
Agit Zulharman, Agus Mulyana, Ginaldi Ari Nugroho

---
Measure IT Value Impact for Performance of Telecommunication Company in Indonesia Case Study of PT Smartfren Telecom Tbk

Pages 289-293
Diana Effendi, Beri Noviansyah, Bela Hardiayana

Abstract

The growing of telecommunications networks in the world requires telecommunications companies, particularly in Indonesia need to upgrade to a better network services. This will affect the value of IT investments in the company. In this study will be examined on how to influence the value of IT investments against the company's revenue.

---
Success Factors of National Leadership in Indonesia

Pages 294-299
Irzanita Wathan, Daniel J

Abstract

This  paper aims to know some of the factors that determine the success of leadership in Indonesia which is associated between Indonesian leaders with his/her competence, communication skills, crisis handling, and how its aspects will determine his leadership, and national performance, or organizational performance in nation-state context. This paper will also aims to discover how selection can be done objectively and could factor in differences in national leadership and national performance, as then the leadership processes in this country may not only be attributed and be the responsibility of the leaders, but also the responsibility of the selection process and its assorted people that is involved in the selection process. Some of the concepts in a comprehensive manner will be described as a proposed conceptual model, as contribution in achieving better performance for the government.

---
Quality Evaluation of Online Payment Website to Agent Satisfaction using Webqual 4.0 (Case Study in Pt.X)

Pages 300-307
Dian Permata Sari, Imelda

Abstract

Payment online is a ticketing system serves transportation ticket sales such as airlines, bus and train airline, pulses, payment and so on for members who are registered as an agent and can be done from many places in Indonesia. Online payment business is a challenge to its costumers so it needs to be more effective and efficient to compete, especially to similiar competitors. Purpose of this research was to evaluate the quality of website to improve the satisfaction performance of payment online agent. In this research, data came from 30 sample from 147 populations with online survey randomly based on business need of the agent, observation and interviews with those involved in the payment online. The data obtained processed using regression analysis using questionnaire in Likert scale and Webqual 4.0. This research measured in numbers to make easily understood by human and how good the website payment online has met quality. The research result are : (1) variable Usability (X1) can affect agent satisfaction with value 0.336, (2) variable Information Quality (X2) can affect agent satisfaction with value 0,201, and (3) variable Interaction Quality (X3) can affect agent satisfaction value -0.157. With the value of R Square 0.416 which means 41.6% influence on agents satisfaction and 58.4% are influenced by other factors outside of Usability, Information Quality and Interaction Quality.

---
Mobile Application And 64-Bit Linux Based Classroom Management and Documents Repository System

Pages 308-311
Dimas Widyasastrena, Rio Yunanto, Apriani Puti Purfini

Abstract

As the complexity of management system begins to emerge, such as lecturers are unable to acknowledge which classes are available, the need of paperless documents to reduce physical space, and online academic council; an updated management system is required to cope these problems. In order to provide good outcome on classroom management system, we propose a cloud system and mobile application based system in which all corresponding units i.e. lecturers, administration staffs could monitor and reserve as needed. Students however could only monitor the classroom reservation schedule. The management system also covers repository system where all documents are stored via 64-bit Linux server, this repository system is accessible through either mobile or web (cloud system). The proposed system is expected to enhance the performance of conventional management system applied at Department of Computerized Accounting of Indonesia Computer University.

---
Head Movements on Virtual Reality: Predictive Classification Experiment

Pages 312-316
Wartika, Maria Seraphina Astriani, Wahyuni, Iyan Gustiana

Abstract

New and unique way is found for the interaction between human and computer especially on the Virtual Reality fields. Head movements are captured by magnetometer and accelerometer sensors on smartphone that mounted on the Virtual Reality devices, but the sensors do not have ability to detect on which way the head are moving. The experiment need to be performed to classify the head movement data using label, compare the cross-validation data with train data, determining the most likely label, and give the accuracy result. Experiment have been done using Conditional Random Fields method and check the result of the method is it suitable or not to handle head movement data.

---
The GPS System Application of Waste Operational Activities of the Waste Management, Parks and Cemeteries Department (DP4) Bandung

Pages 317-324
Sain Segar K.SID, Yasmi Afrizal, Julian Chandra W

Abstract

Sanitation is the important factor for sustainability of human life. In order to realize a clean environment, so that the issue of waste becomes a major issue. The increasing number of people in Bandung and also their activities make the problems about waste become more complex. The sufficiency of operational vehicles for waste transportation at Regional Sanitation Company in Bandung caused direct effect for misuse of waste operational vehicles. Various factors may affect the misuse of transporting waste, including the numbers of operational vehicles that operate on the field, the scheduling of the waste transporting in temporary waste disposal station, the route that carried vehicles, as well as the amount waste vehicles rotations. This problem is analyzed and developed by applying GPS system of waste operational activity of Bandung Regional Sanitation Company. This research attempted to develop an application to solve the misuse factor of that vehicles. The information technology may apply to waste operational activity transport management is to integrate the Global Positioning System (GPS), Groupe Spécial Mobile (GSM) and Geografic Information System (GIS) web-based with graphic visual can offer an excellent solution to face a great challenge on waste operational.

---
Human Resources Scoring Performance Information System at PT. Atri Distribusindo Tbk

Pages 325-333
Winanti. Marliana Budhiningtias, Mauluddin. Syahrul2

Abstract

Human resources performance scoring is a key component to many company in human resource process to give decisions related with award for employee. PT. Atri Distribusin do Tbk. using 360 degree methode to score human resources performance to prevent subjective scoring. The result will use to create report to determine type of training requirement or promotion for employee. Scoring procedure at PT. Atri Distribusin do Tbk. already on track but the weakness is it still need longer time to count the score and level of human error very high. To solve problem, this research will design human resources scoring information system. This research using object oriented approach and prototype method. Support software to build human resources scoring performance information system were PHP as programming application and postgre SQL as database.Result of this research is human resources scoring information system, and hopefully will help to make scoring process easier and faster and will produce accurate report

---
Smart Mobile Parking

Pages 334-347
Syahrul, Ahmad Sobirin

Abstract

In this paper presented the results of research on the design and implementation of a system called Smart Mobile Parking. The purpose of this research is to make the car parking system electronically and automatically. With this system is expected to facilitate the users to park their vehicles. The system is designed to apply the principles of IoT (Internet of Things). In addition, this system has the function to monitor the parking area, reservations and electronic payments (billing). To build this system required hardware is Raspberry Pi as a processor and an infrared sensor module is used to detect the presence of cars. Software applications that are built based on android and database. Tests on the hardware and the software is successfully carried out. The presence of cars in parking places can be detected by infrared light. Booking parking places conducted by the android application program. This android application is also supported by the database system. Overall the system has worked, ranging from infrared sensor readings in real time to the process of booking a place (reservations), and also on the electronic payment system.

---
Against Media iLearning System Implementation Quality Assessment and Student Learning Effectiveness

Pages  348-356
Sudaryono, Untung Rahardja, Ahmad Roihan
---
Prototype of Support System Application for Housing Using Criteria Performance Index

Pages 357-363
Citra Noviyasari, S.Si., MT, Dimas Eko Rasuly, S.Si

Abstract

Wider technology uses makes improving human qualify of life more easier, Such knowledge that was only used for education, today could be implemented to daily life. Housing is one of main need in society, For rural and urban society. When someone able to buy a house there are several thought that must be consider, Not only about budget cost but many other factors This research using CPI (Comparative Performance Index) methode. Some general considerations that used by house buyer wil implemented as index to measure house values that gives alternative for buyer to choose their needed house. Further more, result of this research will implemented to website application using decision support system so it can used by many users.

---
Utility Gto Toll Gate Pasteur Bandung Using Simulation Model

Pages 364-374
Agus Riyanto, Ifaz Fazlurahman

Abstract

A high volume of traffic at the toll gate pasteur is the main cause of the queues at the substation out, with the issue PT.Jasamarga provide GTO (gerbang tol otomatis) substation built to serve transactions using e-toll card and speed up transactions at the substation out so it can reduce the queues that occur at the toll gate pasteur. To find significant use of GTO substations can reduce the queues that occur in substations exit at the toll gate cluster 1, the purpose of this study is to performance analysis to determine the level of performance of the substation GTO system and the actual maximum capacity of the volume of traffic that can be served by the use of GTO booth at the toll gate pasteur. The study began by collecting the data necessary to create simulation models, data has been collected and processed using software Stat Fit to determine the pattern of distribution of the data, once complete data is continued with the development of simulation models using Pro model 2014 student version. The output of the simulation model created later validated by testing t-test using SPSS software. Once the models are made valid, then the research continued with experimentation models to obtain data in accordance with the purpose of research. Data from these experiments is then analysed to obtain a final conclusion. Performance analysis of simulation output results showed the highest utility substations GTO of 23,30% with 4,46 seconds service time at the toll gate pasteur Analysis for maximum capacity of substations GTO at toll gate pasteur can serve 102 500 vehicles a day at 8 substations operating GTO.

---
Simulation Model Design of Cileunyi Toll Gate as a Tool for Evaluation and Improvement of Toll Booths Operational Policy in PT. Jasamarga

Pages 375-386
Gunawan Rahadiyan Raka, Santosa Alam, Sianturi Gabriel

Abstract

Cileunyi toll gate is one of the toll gates in Purbaleunyi highway segments which have the highest volume of daily traffic. Fluctuation of the high daily traffic make it prone to inefficiency from lowly utilized toll booths and high vehicle waiting time, therefore evaluation and improvement of currently applied operational policies are necessary to do. This article provides a study about the design of a simulation model using ProModel, with aim to support evaluation and improvement of toll booth operational policies. Evaluation and improvement aspects that covered by this study consist of actual toll gate performance, toll booth operators workload, optimal configuration of active toll booth hourly, and toll gate maximum capacity. The results showed that simulation model is capable of identifying toll gate actual performance based on utilization rate and queue length, identifying optimal toll booth configuration for every hour based on particular criteria, identifying the workload of operators per shift and toll booth configuration to balance the workload of operators per shift, and identifying maximum toll gate capacity and predicting the time when overcapacity will occured.

---
Policy Model of E-Desa in Indonesia

Pages 387-392
Melly Maulin P, Dewi Kurniasih, Irawan Afrianto

---
Sistem Informasi Destinasi Kota Bandung Menggunakan Metode Location Based Services (Lbs) Berbasis Android

Pages 393-397
Bobi Kurniawan, Hadi Pranoto

---

Track: Health and Medicine Studies
The Visual Strategic of Government Health Warning System with Public Services Advertisement at Cigarette Packaging in Indonesia

Pages 398-407
Gema Ariprahara, Rini Maulina
---
Sero-Positivity for Histoplasma Capsulatum among the Nearby Residents and Workers of Bat Caves

Pages 408-414
Marx P. Catalan, Anna Dominique Margas, Aprilyn Francisco
---

Track: Social Sciences and Humanities
Walking Behaviour of Residents around Railway Station

Pages 415-427
Romeiza Syafriharti, B. Kombaitan, Iwan P. Kusumantoro, Ibnu Syabri
---
A Decision Support System to cluster a Priority Development Sub Town in Education Field with K-Means Clustering Algorithm (Case study Center Java Province of Indonesia)

Pages 428-431
Nursikuwagus, Agus, Hartono, Tono
---
Women and Job Positions:A Study about Habitus of Women Leaders in Advertising Agency

Pages 432-440
Fitria Angeliqa
---
The Speed of Technology Diffusion and Its Role in SMEs Growth

Pages 441-449
Savitri Dyah, Eki K. Apriliyadi, Rachmini Saparita, Akmadi Abbas
---
Protection and Preservation of Sundanese in Public Spaces

Pages 450-455
Prihandini, Asih, Sari, Retno Purwani, Tawami, Tatan
---
Embodiment Islamic Image Based on the Experience Space on the Mihrab Mosque: Case Study: Mihrab of Al Irsyad Mosque in Kota Baru Parahyangan West Bandung Kabupaten

Pages 456-461
Cherry Dharmawan, Ryanty Derwentyana, Dina Fatimah
---
Communication Pattern of Trainer (A Phenomenological Study on Form and Style of Communication Trainer as the Training Motivator in the City of Bandung)

Pages 462-467
Rismawaty, Olih Solihin, Inggar Prayoga
---
Speech Training with Systematic Desensitization in reducing Students' Speech Anxiety

Pages 468-475
Syafryadin, Nurkamto, J., Linggar, D, A., Mujiyanto, J.
---
Empowerment Policy for Local Community of Fishermen in Cirebon Coastal Area

Pages 476-478
H.A. Djalil Idris Saputra
---
The Influence of Undervaluation, Free Cash Flow, Leverage and Dispersion of Ownerships toward Company"s Stock Repurchase (An Empirical Study of Indonesia Stock Exchange Public Listed Companies)

Pages 479-490
Dra. Ec. Cholifah, MM, Mahsina, SE., MSI, Dra. Ec. Asmie Poniwati, MM