4th INTERNATIONAL CONFERENCE ON
"GLOBAL ISSUES IN MULTIDISCIPLINARY ACADEMIC RESEARCH"
(GIMAR – 2018)
Conference Main Theme: "Global Issues In Multidisciplinary Academic Research"
Local Attraction
The Imperial Palace
The chief attraction of Tokyo's Marunouchi district is the Imperial Palace with its beautiful 17th-century parks surrounded by walls and moats. Still in use by the Imperial family, the Imperial Palace stands on the site where, in 1457, the Feudal Lord Ota Dokan built the first fortress, the focal point from which the city of Tokyo (or Edo, as it was then) gradually spread. As famous as the palace is the Nijubashi Bridge leading to its interior, a structure that takes its name ("double bridge") from its reflection in the water. Other notable features include the two-meter-thick wall surrounding the palace and its gates, one of which leads to the East Higashi-Gyoen Garden, one of the few areas open to the public (the main Palace Gardens are only open twice a year, on January 2nd and April 29th, when crowds flock here to catch sight of the Emperor). One fortress that can be visited is Edo Castle (Chiyoda Castle), built in 1457 and located in Tokyo's Chiyoda district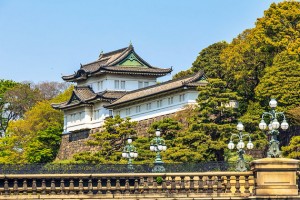 Ueno Park and Zoo
A paradise-like oasis of green in the heart of busy Tokyo, Ueno Park is the city's largest green space and one of its most popular tourist attractions. In addition to its lovely grounds, the park also boasts a zoo, aquarium, and numerous temples and museums to explore. Criss-crossed by pleasant gravel paths, this 212-acre park includes highlights such as a trip on a small boat on the reed-fringed Shinobazu pond, around a little island with its Bentendo Temple; visiting the 17th-century Toshogu Shrine with its 256 bronze and stone lanterns; or strolling around Ueno Park Zoo. Opened in 1882, it is Japan's oldest zoo, famous for the pandas presented by the People's Republic of China. The Aqua-Zoo, one of the largest aquariums in Asia, is also worth a visit, especially if traveling with kids.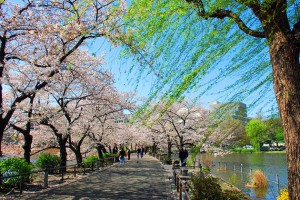 The Meiji Shrine
Dedicated to Emperor Meiji and his wife, Empress Shōken, construction of the splendid Meiji Shrine began in 1915 and was completed in 1926. Although the original structure was destroyed during WWII, it was rebuilt in 1958 and remains one of Tokyo's most important religious sites. Surrounded by a 175-acre evergreen forest that is home to some 120,000 trees representing species found across Japan, the shrine's highlights include its Inner Precinct  with its museum containing royal treasures, and the Outer Precinct , home to the Meiji Memorial Picture Gallery with its superb collection of murals relating to the lives of the emperor and empress.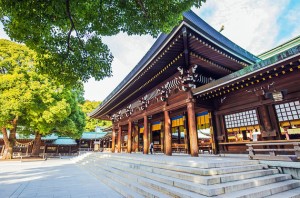 The Tokyo Skytree
It's hard to miss the Tokyo Skytree , a 634-meter-tall communications and observation tower that rises out of the city's Sumida district of Minato like a huge rocket ship. The country's tallest structure (and the world's tallest freestanding tower), the Tokyo Skytree opened in 2012 and has quickly become one of the city's most visited tourist attractions thanks to the incredible panoramic views from its restaurant and observation decks. With a base designed in the form of a massive tripod, the tower includes a number of cylindrical observation levels, including one at the 350-meter mark, and another at the 450-meter point, which includes a unique glass spiral walkway to an even higher viewpoint that also boasts glass floors for those with strong stomachs.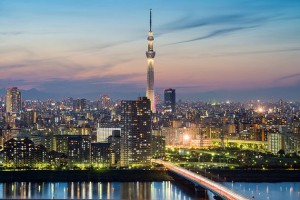 Ueno Park
Ueno Park is a spacious public park in the Ueno district of Taitō, Tokyo, Japan. The park was established in 1873 on lands formerly belonging to the temple of Kan'ei-ji. Amongst the country's first public parks, it was founded following the western example as part of the borrowing and assimilation of international practices that characterizes the early Meiji period. The home of a number of major museums, Ueno Park is also celebrated in spring for its cherry blossoms and hanami. In recent times the park and its attractions have drawn over ten million visitors a year, making it Japan's  most  popular city park