Key Note Speakers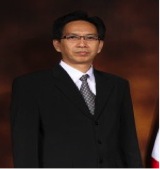 Prof. Ir. Mochamad Ashari, M.Eng., Ph.D
( Rector Telkom University – Indonesia )
Mr Mochamad Ashari was born in 1965. He spent his childhood in Sidoarjo, East Java. Mr. Mochamad Ashari received the bachelor of electrical engineering from Institut Teknologi Sepuluh Nopember ( ITS), Surabaya, Indonesia in 1989. Then, he joined ITS as a junior lecturer after graduation. He received the Master and PhD of electrical engineering both from Curtin Univ, Australia in 1997 and 2002 respectively.
He was elected as the head of electrical engineering department for 2 periods in 2003-2011. Award for the best head of department in Indonesia was received in 2009, held by the ministry of education and culture. He also gained 2 awards of the government employee faithfull from the president of Republic Indonesia in 2004 and 2009. Mr. Ashari has been the professor in power electronics and renewable energy in 2009 for the department of electrical engineering ITS. He got the best researcher in energy field in ITS 2010. Prof. Ashari was also the founder and the president of electrical engineering higher education forum of Indonesia (Fortei) 2010-2012. Recently, professor Ashari has promoted as the Rector of Telkom University, Bandung, Indonesia, since August 2013 for 4 years. His research interests include power electronics for converters, power quality, on-grid and off-grid power system, and renewable energy technology.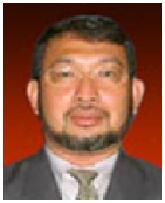 Prof. Zamri Mohamed
Dean, UTM Perdana School
Prof. Zamri Mohamed is a legend scholar in Malaysian academic community with his expertise and experience in promotion of science, innovation and policy field. He will be sharing his valuable thoughts about the role of multidisciplinary research in bringing originality, scholarship and quality in regional and global academic circles.
Professor Zamri Mohamed was born in 1958 in the state of Kelantan, Malaysia, started his primary and secondary school in various schools in Malaysia. In 1976 he went to UK to do his A-Level. He then entered the University of Wales, College of Swansea for his undergraduate studies in Engineering and later in University of Wales Institute of Science and Technology, Cardiff for his post-graduate studies in Computer Systems, both in Wales, UK.
He started working in University Teknologi Malaysia in 1984 as a Lecturer in the Faculty of Computer Science and Information System and was promoted to become an Associate Professor in 1993 and a Full Professor in 1997. In Academic management, he was the Dean of the Faculty of Computer Science and Information System from 1995 to 2001. Then he was assigned to become the first academician to lead the University Computer Centre from 2004 to 2009. He was then appointed as the Research Dean for the K-Economy Research Alliance from 2010 to 2011. From 2011, he is currently serving as the Dean for the Perdana School of Science, Technology and Innovation (STI) Policy.
He was involved in several Research projects and consultancy work throughout his career. In addition to a number of software development consulting projects and IS/IT Strategic Planning, he is currently part of a consulting team in a Public Works Department consulting project. One of his most important research work was for Intensification of Research in Priority Areas (IRPA) in eScience Grid in 2002 to 2004 where he was the project leader. Currently his research interest is more focussed Policy and in Innovation Ecosystem where he either lead or was a member of 3 different Ministry of Higher Education (MOHE) and Ministry of Natural Resources and Environment (NRE) grants. He has also advised several government bodies on ICT issues, Public Sector Innovation, Science, Technology and Innovation issues, some at the steering committee level.
He has taught several courses in his academic career at both undergraduate and postgraduate levels, mainly in Computer Systems subjects (computer architecture, systems software, computer networks), Strategic IS/IT. He is currently focusing on STI Policy subjects such as STI Policy Foundation, Enterprise IT systems and ICT Policy .
In his current job, besides participating in University level committees and task forces, he is helping to strengthen the Perdana School of STI Policy (UTM Perdana) by focusing on upgrading the current academic program in Masters in STI policy program and preparing to offer two new Masters level programs, one in Master of Innovation and the second Master of Science, Technology and Society. The planning and implementation of the UTM Perdana programs, while developing resources both human as well as physical and intellectual resources and at the same time building national, regional and international networks, is now taking up most of his time. Even so, opportunities to learn, share knowledge and collaborate in the area of Science, Technology and Innovation (STI) and Policy has always been welcomed.