---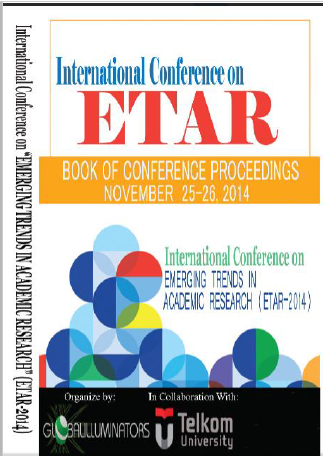 ETAR Proceedings
Copyright © Global Illuminators. All rights reserved
ETAR Proceeding
Volume 1, Pages 1-281
2014 ETAR Conference on "EMERGING TRENDS IN ACADEMIC RESEARCH" (ETAR 2014)
November 25-26, 2014 Bali Indonesia
Edited by Dr. Ahmed Saddam
Volume 1
pp. 1-281 (2014)
2014 ETAR Conference on "EMERGING TRENDS IN ACADEMIC RESEARCH"
(ETAR  2014)
Volume 2
pp. 1-180 (2015)
2015 ETAR Conference on "EMERGING TRENDS IN ACADEMIC RESEARCH"
(ETAR  2015)

Track: Business Management & Economic Studies
Assessing Organizational Learning Culture, Leadership and Dialog in a Learning Organization
Pages 1-12
Muhammad Nurjufri Jaafar, Professor Dr. Norliya Ahmad Kassim, Muhammad Faizal Iylia Mohd Ghazali, Muhammad Ariff Idris, Mohamad Lokman Hakim Khalib
---
Customer Value Co-Creation in Electronic Banking Services
Pages 13-18
Tsourela Maria, Paschaloudis Dimitris and Nerantzaki Dafni
---
The Emotional Effect of Multimedia Induced Emotions on e-Learning among Polytechnic Students
Pages 19-29
Jeya Amantha Kumar
---
Factorsanalysis Affecting Customer Loyalty Mandiri Inernet Banking Services At Bank Mandiri Indrapura Surabaya Branch
Pages 30-43
Rinjani, Ayrton, Ika , Windyagiri, Refi, Rifaldi
---
The Behavioral Approach to Urban Poverty Reduction Model
Pages 44-64
Nazief Nirwanto and Harmono

---
The Interconnection between Contractors' Bidding Strategies and JKR (Jabatan Kerja Raya) Tender Evaluation Factors
Pages 65-69
Fadzida Ismail, Suziyana Mat Dahan, Ahmad Nazif Noor Kamar, NurhaizanMohd Zainudin and Jack Kie
---
Corporate Diversification and Cash Holding
Pages 70-79
Purnamasari Kurnia, Fitdiarini Noorlaily
---
The Risk Identification on the Assets of Green Management-Based Clean Water Services and their Management Plans And Strategies (A Study on Clean WaterServices In Jawa Barat)
Pages 80-92
Budi Supriatono Purnomo, Alfira Sofia, R.Nelly Nur Apandi
---
Track: Social Sciences and Humanities
Assessment of Competency Level of Pre-Service Teachers Based on National Competency- Based Teacher Standards (Ncbts) In Public School in the National Capital Region (Ncr)
Pages 93-111
Silvia C. Ambag
---
Gender Equality in Universities: Perceptions of Future Educators
Pages 112-121
Rovelina B. Jacolbia
---
The Religious literacy Problem of Kazakhstan Youth
Pages 123-132
Baitenova Nagima, Borbassova Karlygash
---
Introducing Blogs in Food Writing
Pages 133-138
Farina Nozakiah Tazijan, Suzana Ab. Rahim, FazrulAzmi Zulkifli3, MohdAzli Razali, Noorliza Zainool  and KhairulHidayat Rezo
---
Motivations toward Recreational Sport Participation among Women Police Officers in Ipd, Shah Alam
Pages 139-148
Abdul Rahim Mohd Meerah and Juraimie Jusoh
---
Psychological Factors Affecting Universities' Students Food Choice
Pages 149-154
Guan Teik Ee,Rahimi Che Aman
---
Motivation, Task Orientation and Ego Orientation Influence Flow Experience among Golfer
Pages 155-164
Rezi Rezian-Na Muhammed Kassim, Nor Hasmah Abdul Haris, Mohamad Ali Kimik
---

Track: Physical Life and Applied Sciences
It is Necessary to Develop the Weather Derivative Contracts: Research in Vietnam
Pages 165-171
Doan Thanh Ha
---
Catecholamine and Cortisol Levels in Relation to Temperature and Transportation Stress in Goats
Pages 172-186
Al-Abry, G. S., Mahmoud, I. Y., Al-Bahry, S. N., Mann, G
---
Diagnostics and Optimization of Crops" Nitrogen Nutrition in Rainfed Conditions of the Northern Kazakhstan
Pages 187-196
Valentina Grigoriyevna Chernenok, Borislavovich Kudashev and S.Seifullin
---
Model Impact Resistance of Bio-Textile Fabrics Composite from Agave and Pineapple Leaf Fibers
Pages 197-204
Asmanto Subagyo
---
Air Pollution and Shading as Possible Factor Affecting Number of Algal Cells (Chlorophyta: Coccomyxa Confluens)
Pages 205-211
Asmida Ismail, NurulFarhana Arbain, Noor Akmal Wahab, Ahmad Ismail  and SitiKhairiyahMohd Hatta
---
Partnership between Midwives and Traditional Birth Attendants (Tbas) in the Work Health District Minasate'ne Pangkep 2014
Pages 212-221
Yusriani, Amaliah Octaviani
Abstract

Background: According to WHO (2007) Indonesia ranks fourth-highest maternal mortality rate in 2005 when
compared to the world's developing countries. One of the many health cases still occur in Indonesia is to aid
delivery by TBAs. In fact, almost all Indonesian people living in both rural and urban areas prefer to be assisted
by TBAs. The proportion of deliveries according to place of birth in Indonesia is as much as 55.4% in health
facilities, 1.4% and 43.2% in Polindes at home and other places (51.9% and 40.2% helped midwife helped
shaman). Minasate'ne district health center. Minasate'ne Kab. Pangkep partnership program has been running
since the year 2010. This study aimed to determine the behavior of the partnership between midwives and
traditional birth attendants in the Puskesmas Minasate'ne.
Methods: The study was a quantitative research approach of "cross sectional" with a total sample of 32 people.
In this study using a questionnaire as a data collection instrument is then processed by using a computer and
presented in table accompanied by an explanation. To determine the relationship between the independent
variable on the dependent variable, the chi-square test was used.
Results: The results showed that the partnership midwives and traditional birth attendants can be in the good
category 46.9% and 53.1% unfavorable. Based on the results of the bivariate analysis, the p-value <α (0.05) to obtain that there is a relationship between knowledge, attitudes, facilities, training, and regulations with the panrtnership between midwives and birth attendants in Puskesmas Minasate'ne Pangkep, while for supervision no association with the partnership between midwives and traditional birth attendants because the value of p = 0.229 or p> α (0.05).
Suggestion: This study suggests that health workers in health centers Minasate'ne further enhance the
knowledge, skills, equip the facility, as well as supervision of midwives and traditional birth attendants in the
partnership program run by providing some forms of training are very helpful for birth attendants and midwives
in the running its role as a partner.
---
Preliminary Study of Methane Oxidation in Landfill Cover Soil; The Effect of Moisture Content
Pages 222-230
Faeiza Buyong, MohdSuzairiff Zainal and NurulAtikahMohd Fozi
---

Track: Health and Medicine Studies
Chromosomal Analysis and NORs Polymorphism of Bagarius SUCHUS (Siluriformes: Sisoridae) by Conventional
Banding and FISH Techniques
Pages 231-244
Nuntiya Maneechot, Weerayuth Supiwong, Alongklod Tanomtong
---
Yahya Ibn "Adi on Psychotherapy
Pages 245-254
Mohd. Nasir Omar, Dr. Zaizul Ab Rahman
---
Factors Associated with Maternal Behavior in Exclusive Breastfeeding Baby Ages 6 To 11 Months in Mawasangka District Buton 2014
Pages 255-266
FairusPrihatin Idris, Hilda Safitri
---
Risk Factor of Tuberculosis Coinfection to the Hiv/Aids Victim at Labuang Baji Hospital Makassar in 2014
Pages 267-274
Sri Syatriani, Musdalifah
---
Viral Load from Tissue Brushing and Peripheral Blood of Nasopharyngeal Carcinoma from Makassar Before and after Treatment
Pages 275-281
Eka Savitri, Sofia Mubarak Haryana, Anwar Mallongi